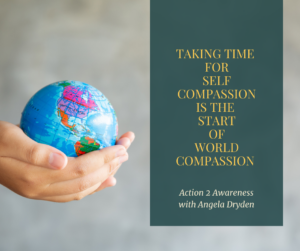 Cultivating gratitude in my life has made a huge difference. It wasn't that all of a sudden I decided to sit down and become grateful for everything in my life, then poof, it was better. The word "cultivate" infers that it will take time and many baby steps to travel on the journey toward gratitude.
Begin Again
One of the easiest ways I can think of to help on this gratitude journey is to begin a journal. I know, you have heard this before, and you probably have journals that you have started and stopped, scattered throughout the house. Don't buy a new one thinking this time will be different. Instead, open up to the last page you wrote and jot down these three simple ideas:
Three Simple Steps
1st Think Kindness – This simple act of becoming aware of how you might be able to serve people that crosses your path today will begin your journey. Maybe it will be a simple smile or holding open the door. Just having in your heart, the thought that, "Yes! I choose today to serve and do so with joy in my heart" will get you started on this journey.
2nd No Judgement – This one is a little more challenging and I will be honest, some days are better than others for me. Really see the people you come into contact with as a Child of God, or a fellow Spirit traveler in this world that falls and stumbles just like everyone else. It sometimes helps me to visualize them as a child, because innocence is hard to judge negatively.
3rd Ask Questions – Now this one might throw you off but let me explain. One of my favorite sayings is "No one cares how much you know until they know how much you care". Be sincere and ask questions, be interested, and listen. Time is valuable and when we spend it being interested in others, it will in turn bless us and we will become more grateful.
Now remember, no going to the store to buy a nice shiny new journal with pretty flowers or a cool design. Pick up from where you left off in an old one. Just doing this simple act will bring gratitude to your heart.