You need to be the Leading Lady in your own story, or you are allowing others to treat you as characters in their drama. Wanting or needing people to like you is an internal relationship situation and only you can fix it, but you have to want to. This has been called many things; being co-dependent, people pleaser, or an enabler.  If you are not out rowing your own boat you are standing on the dock waiting for someone to pick you up in theirs. A leading lady would never say, "I don't like confrontation, I'm fine with being agreeable, I want people to like me." These are phrases that other characters and those on the dock waiting for a boat would say.
Let me give you an example of how you might know that you are playing a character in someone else's drama.
You are at a dinner party with friends, and a lady you barely know walks up to you and says, "I've seen you; you are such a know it all."
Words have been spoken that you might not agree with, in fact you may feel insulted. So, you look to your husband and tell him you want to leave, or you look to a friend and ask for the identity of the woman. Either way, you are now portraying a character in this lady's drama and not yours. Maybe you decide to leave or maybe you complain about her. Your focus is on her so that makes her the Leading Lady.
Same situation same words have been said. But instead of turning to someone else you could approach this situation in a non-abrasive manner and ask her, "That's interesting, how do we know each other?" Or, "I can see how that might be true," or you could simply say, "Thank you for bringing that to my attention." Many words can be said in this situation, but when you respond with grace and self-respect instead of reacting out of anger, always shows that you are a Leading Lady in your own story.
One of the Al-Anon slogans come to mind when exploring this concept, "Don't be a door mat." It's okay to have moments that you wish you could take back. You are human and the goal is never for perfection but always for improvement. Even Leading Ladies get it wrong now and then and know when to ask for help; that is what makes them a Leading Lady. They are open to the possibilities and are willing to question their own thinking.
In the next three blogs I will explore a few concepts on becoming the Leading Lady to your own story. These concepts will center around: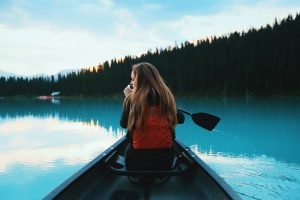 Roles we play in relationships so you can be aware of the roles and parts you might be playing.
Exploring a growth space compared to a safe space and how vulnerability is going to make the difference.
Plus diving a little deeper into blame and responsibility, it can be tricky to detect when we are the victim, villain or hero.
If you are not already signed up for my Sunday Evening Thoughts and Blog sign up now. Stop being a character in someone else's drama, waiting on the doc for a boat that may never come. Come and discover insights that will help you become the Leading Lady in your life.