Do you talk to yourself? Whether it is an internal or an external dialogue, we all talk to ourselves on some level. It is common and healthy to talk to yourself and can be really helpful when trying to problem solve in our day to day living.
My next question is how do you talk to yourself?  Do you ever find yourself saying, "Oh, I always do that," or say things like, "That's just me being me?" We can easily think that these words are just simple and mean little to nothing. However, to your brain, these words mean exactly what you are saying and have merit.  Affirming that your behavior now is proof of your past behavior and you are reinforcing a habit and allowing the past behaviors, whether conscious or not, to dictate your present and potential future thinking.
How many times have you told yourself you are going to change and then the next moment declare to yourself and others that "It's just the way I am?"  We can tell ourselves we are going to change but it might be challenging to accomplish when we reaffirm "that's just who I am." Deciding how you talk to yourself is deciding how you want to show up in the world. Creating inward confidence will only come when we allow ourselves to see the world as ever changing and give ourselves permission to change, too. Understanding you are going to fall back into old behavior until you consciously create new one.
I gave a few examples so far of little things we might say to ourselves. Might I suggest that you find just one saying that you catch yourself repeating and work on changing it by following these steps: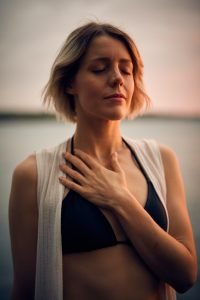 Write down the saying that you are wanting to change.
 After you write it down examine the scenarios that you are in when this thought comes into your thinking.
Once conscious of the thought and what you are doing when thinking this thought, write down beside it something you believe, or are trying to believe, and say it instead.
Here are a few examples of replacing a current thought with a new thought:
Instead of saying that's just the way I am you could say, I am evolving each day, so change is inevitable.
Instead of saying I always do this, you could say, it is possible that I can do this in a different way.
Instead of saying I'm such an idiot, you could say, sometimes I do silly things, but I learn from all things.
Envision the future you want and decide how your thoughts will help you create it. Our memory of the past is just that; a memory. It will take up as much space as we allow it to, just like our future thinking will create the energy that we need to manifest the results we want. Creating a habit of how we talk to ourselves gives us an opportunity to play a part in our own evolution.