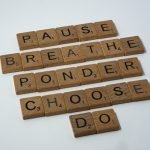 Have you experienced moments in a relationship when you wish it was just easier, finding yourself fighting to feel better?  The Motivational Triad has three components to it: seek pleasure, avoid pain, and conserve energy.  I want to offer what this looks like and how being aware of this process could aid you as you work towards transforming co-dependent behaviors into Leading Lady behaviors.
Let's explore the first corner of the triad and look at the Motivational need to avoid pain. Our limbic and sympathetic nervous systems have a negative bias that can if we allow it, dictate our every move. It was designed to keep us alive; designed to keep us safe by wiring us to avoid all pain, whether it be physical or mental. By utilizing our Parasympathetic nervous system and prefrontal cortex we can decide what is a life-threatening danger and what might be our fears that are stopping us.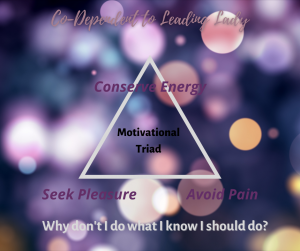 The next corner of the tripod is seeking pleasure. When you reach for the remote control, scroll through social media, grab that glass of wine or box of cookies we might be engaging in this. This is a way that one can use a "socially acceptable action" to avoid pain and conserve energy at the same time. We justify our actions by telling ourselves everyone else does it, too. This concept is one that can keep us from many experiences since the initial reaction to change from our routine can generate emotions of fear and anxiety, which leads us to avoiding pain.
Taking an evening walk, reading a book, studying a new language, or working a side hustle to earn some extra income are all examples of activities that expend energy instead of conserving it. When we avoid pain by seeking pleasure, such as sitting down to watch Netflix because our brain tells us we deserve to relax, we are conserving energy, but not getting anything done. This conservation of energy was historically essential to the human race, but now we must battle the Motivational triad on a daily basis.
For example, your loved one wants to watch a Netflix show, but you offer to go for a walk because you are trying to hold healthier habits. They say no, and they might even offer in return to have you sit and watch TV with them.  You know they are wanting to sit because you understand the Motivational Triad. There is nothing you did or didn't do; it is their limbic system doing its job. If you wanted to go for a walk and made it a goal to do that, when you use their actions as being your reason to not walk, you are engaging in a co-dependent behavior. You can choose to go for a walk, and they can watch tv. It doesn't have to mean that someone is mad, doesn't love you, or any such thing. It all depends on how you want to see it; allowing your loved one to see it their way and giving yourself permission to accomplish your goal of walking.     
When we realize that the reward of an accomplishment would not generate such an uplifting emotion if we didn't know what struggle felt like, we find ways to let go then rise up. It is only through knowing the struggle that we truly appreciate the reward. With this awareness, we are taking the steps to become a Leading Lady.