We all have good and bad qualities and behaviors that directly stem from "Ego." It is creating that 50/50 balance between them that makes up many parts of our life's journey.
To have Ego is to be Human; our ego can keep us alive, help us survive, see ways to strive then possibly thrive. Ego can be attached to comparison and judgment, stimulating a need to stay alive and survive. It is also attached to self-awareness (striving) and discipline in mind-management (thriving; next level shit).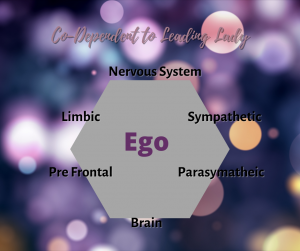 The connection of the mind to the body is the relationship between limbic and prefrontal (mind) then parasympathetic and sympathetic nervous systems (body). These combinations forming what we might refer to as the Ego is our driving force behind the actions we choose to take.  Being human means, we can view our humanness, or separate ourselves from thinking and emotions, by observing our thoughts and feelings almost like we are viewing them through a window. This takes discipline in mind-management. But, how do we do this?
Sometimes we need to be just scared, especially if you are in a dangerous situation and need to get out of harm's way quickly and without thought. That is why—and for good reason—we compare and judge from past experiences using Ego as our default so we can stay alive and survive.
Other times we want to experience no worries; we want to be "okay" with everything and not have reactions as it is possible to become paralyzed from over-analysis. This is what I call "Low-Grade Awareness." Many people stay in this area because it is comfortable and familiar. Staying here would give you a sense of striving. These two feelings are part of the "Surviving and Striving side of Ego" that keeps you from stepping outside your comfort zones.
Instead of just striving, I want to offer that instead of running from emotions such as fear and stress, you can lean into them and see what can happen on the other side of that window. Pull yourself back from the surviving Ego and discipline your mind to view your emotions and thoughts from a distance. This will allow you to see what you are doing and thinking and choose actions that will drive you toward what you want to become and thrive.
Stop, breathe, and question all sides. You are no longer avoiding anything but allowing yourself to fully feel the moment and learn as you lean into it. It's messy, it's unpredictable, but as you allow all emotions having awareness of your body and engage in acts of realization with curiosity you will begin to create solutions you never knew that you were capable of before.  Homeostasis, a balance in our body, can happen when we become self-aware of the different stages of our Ego and connect them so that they are in-sync.  I see it as being a spiritual being, created from a higher Power (for me that is God) learning to traverse the human experience of finding balance with Ego in order to not only survive, but to also Thrive
---